Dry Cut Masonry Saws With Integrated Dust Control
TNO Rated for 8 hr Work Day Outdoors
No water – 100% dry cutting
Collect up to 99.5% of the dust
Cut Indoor or Outdoor
Eliminate dust cleanup and problems
The iQ Power Tool saws are a game-changing tool for professionals. Cutting with no dust contractors can now save money, eliminate the mess and pain of dust problems and protect the health of their workers.
Contact Dealer Near You
The Masonry Saw Your Great Grandfather Used
Masonry saws have looked pretty much the same since 1937. With little meaningful innovation, they're hard to move, offer limited performance and create dust problems or slurry runoff.
Antiquated
The same technology since the 1930's.
Little or no performance improvements.
Lagging behind other industries.
Stationary
Heavy, bulky and hard to move.
Limitations to jobsite placement.
Distance from installation area.
Inefficient
Cutting wet = setup time and slurry runoff.
Cutting dry = silica dust exposure.
Both create a mess and cleanup time.
While technology and innovation have changed the world from automobiles to personal electronics, professional masons have been using the same old cutting tools for generations - Untill Now!
Cut Right Where You Work
With the
iQ360
XR you can cut right where you're laying materials – even inside.
Finish Jobs Faster
Cutting right where you work and no dust cleanup allows you to save time and finish your jobs fast.
QuickSpin

Easy Filter Cleaning

Turn the handle to clean the filter. This turns an agitator knocking the dust off the filter into the dust bin. This filter lasts for one year.
Increase Efficiency
Picture this, your guy laying materials 15 meters from the saw. He walks back hauling his cut material and finds his cut was off by 6 mm. At 4:00 PM after working all day there's a chance he's just going to lay it there rather than walk all the way back to fix his cut. Clean-cutting right where you work with the
iQ360
XR it's a quick fix without another trip to the saw. Over the course of an entire job that makes a quality impact.
iQ Power Tools
iQ Power Tools manufactures a comprehensive range of premium power tools with integrated dust collection systems for the concrete, masonry, hardscape and tile sectors.
The company was founded by third-generation masons Joel and Paul Guth, who have logged over 30 years each in the masonry industry. Decades of experience taught them about dust problems; their company started out creating tools to solve their own problems only to realize these same issues affected all contractors…mess, money and a threat to the health and safety of the industry.
iQ Power Tools envisions a future where their innovation helps create a 100% dust-free environment: jobsites are safer, work practices are healthier, and the construction industry becomes even more sustainable.
Performance
Cut a wide range of masonry materilas like brick, pavers, stone, and veneer with unmatched precision. Cut with speeds of up to 40% faster than the competitor saws.
Portability
Easy to move and transport, ideal for any location, utilizing standard power outlet. Its integrated stand with gas-shocks and high flotation tires allow one person to easily move through any jobsite terrain.
Efficiency
Maximize the amounts of cuts made in a shorter amount of time while eliminate the dust and clean-up.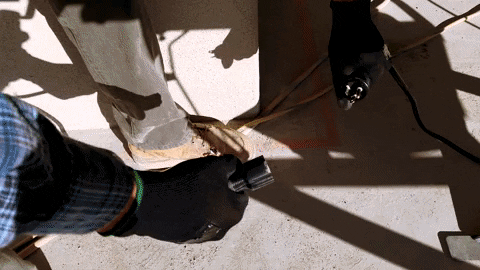 Power & Speed
Our soft-start technology controls the power ramp up for a smooth, uninterrupted operation. While the Q-Drive™ arrayed diamond blades cut 40% faster than any other blades, including masonry materials in a wide range of shapes, sizes, weights, and densities.
Health & Safety
The
iQMS362
is TNO rated for a 8 hr work day outdoors. With integrated dust collection, the saw captures up to 99.5% of hazardous silica dust. This means that you can cut dry while protecting the health and safety of your workforce while saving time and money.
Vacuum System
Dust is captured within the blade guard, rear dust guard, and downdraft louvered table via a high-powered, integrated vacuum system.
3 Stage Cyclone
Captures heavy debris, fine particles, and superfine particles. This allows for up to 99.5% dust capture from the cut.
Dust Containment
Built with an integrated dust collection chamber that holds 18 kg of dust.
A Money-Making Tool
Cleanup
If you have to pay one guy €45/hour to clean up dust every day, for one hour, that adds up to €900 a month.
Wasting Time
If your guy has to walk outside or across the job site to make every cut, doing 150+ cuts a day while hauling materials, he spends an hour or more just walking back and forth, another €900+ a month.
Just using those figures – which are conservative for many contractors – that adds up to €1800 per month or €21,600 a year. It can cost even more. Have you ever had to power wash a building? Pay for a customer's car wash, or pay to clean their windows? Most of us have experienced at least one of these. They're rarely cheap, never fun, and they cut straight into your profits.
Controls cost money too. Personal protective equipment, tarping off your cutting area, and cutting wet all cost money, they're all a pain and they're marginally effective.
iQ360XR eliminates
A) dust cleanup
B) wasted time
C) the cost of marginally effective controls.
This tool makes your business more profitable.
Contact Dealer Near You
World's First Dry Cut Masonry Saws with Integrated Dust Collection
---
The iQMS362 is the World's First 422 mm Masonry Saw With Integrated Dust Collection.
420 mm Masonry Saw for Brick Stone & Pavers
Soft Start technology controls input power ramp up
Fully-Integrated Dust Collection System
Tested to Capture 99.5% of the Dust
Compact & Lightweight—Easy to Transport
Made of Tough High-Impact Materials

QuickSpin

Filter for Easy Cleaning
---
Specifications
VOLTAGE: 230 v
TOTAL SYSTEM POWER: 2300 W
SAW MOTOR POWER: 1800 W
VAC MOTOR POWER: 500 W
SAW WEIGHT: 68 KG
DIMENSIONS: 813 mm W × 1016 mm H × 1092 mm L
BLADE SIZE: 420 mm
CUTTING DEPTH: 140 mm
DUST CAPACITY: 18 kg
Contact Dealer Near You
---
The iQ360XR is tough, built for professionals and designed to last. With basic maintenance – like changing the filter once a year – your iQ360XR will last for years.
355 mm Masonry Saw for Brick Stone & Pavers
New sealed rocker power switch
Soft Start technology reduces AMP draw on start up
Fully-Integrated Dust Collection System
Tested to Capture 99.5% of the Dust
Compact & Lightweight—Easy to Transport
Made of Tough High-Impact Materials
Wide Table Design Allows for Cutting Larger Materials

QuickSpin

Filter for Easy Cleaning
---
Specifications
VOLTAGE: 230 v
TOTAL SYSTEM POWER: 2300 W
SAW MOTOR POWER: 1800 W
VAC MOTOR POWER: 500 W
SAW WEIGHT: 30 KG
DIMENSIONS: 432 mm W × 762 mm H × 508 mm L
BLADE SIZE: 355 mm
SPINDLE SIZE: 25 mm
FILTER TYPE: iQ Dura Bond Cartridge
CUTTING DEPTH: 114 mm H x 305 mm L
DUST CAPACITY: 22.7 kg
Contact Dealer Near You
The Only Choice for Masonry and Hardscape Professionals
ORDER TODAY
iQ Power Tools® continues to be a leader in tool innovation and the iQ Power Tools Masonry Saws are a game changer for the construction industry. Their unmatched speed and accuracy, versatility in material cutting, portability, power management, and dust collection make them the only dry-cut masonry saws with integrated dust control, the ONLY choice for masonry professionals.
Contact Dealer Near You
PUTTING THE "Q" IN QUALITY
How does it cut dry without heat problems?
Pros know: heat is a factor. So how can you cut tile dry without water cooling the blade?
The answer is Q-Drive® blade with Cool Cut Technology.
Q-Drive®
Our proprietary composition of diamond concentration, metal type, and flange thickness cuts cool while reducing vibration and movement.
Engineered to cut tile dry
Blade stays cool to the touch
No warping or wandering
Precision cuts match the quality of a wet blade
Built-In Vacuum
The built-in vacuum on the iQMS362® air-cools the blade while removing debris, so the blade isn't regrinding the same material, reducing friction and heat.
When you see the "Q" seal of quality, you can be sure that it is backed by over three decades of industry experience and quality craftsmanship.
Look for the Q, for iQ Quality
Our specially engineered Q-Drive® Blades with built-in vacuum cooling cuts tile on average at 5° C to 10° C above ambient air temperature.®